News
Concerts:
Thanks to Meitheal and Ballymena Borough Council
14 March 2013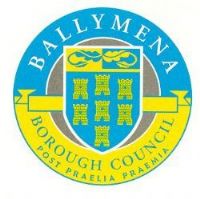 We would like to thank 'Meitheal' and Ballymena Borough Council for their financial assistance with the staging of our 40th Anniversary Celebration events. ...
more
Gleo are playing in The Riverside Suite at The Wild Duck Inn, Portglenone on Friday 15th March 2013.
Concert starts at 8pm and admission is only £5.00.
Followed by a session! ...
more
Concerts:
Gleo Concert and Portglenone CCE 40th Anniversary Weekend
12 February 2013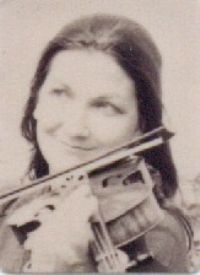 Over the weekend of 15th to 17th March 2013 we are marking the 40th anniversary of the formation of the Portglenone CCE Branch. In particular
...
more
Classes:
Classes Recommence on 7th January 2013
07 January 2013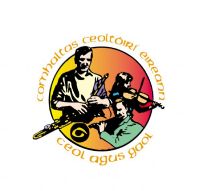 Irish Traditional Music
Classes
will recommence for the new term in St Mary's Primary School on Monday 7th January at 7.00pm.
...
more
Sessions:
Christmas & New Year Session 2012
27 December 2012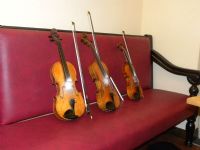 Portglenone Comhaltas Branch held yet another very successful Christmas and New Year Session in The Wild Duck Inn on Thursday 27th December. A large crowd was packed into the new room (a quaint ve ...
more
Sessions:
Christmas & New Year Session 2012
15 December 2012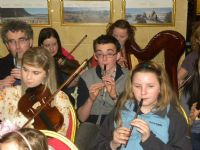 Portglenone CCE
Christmas & New Year Session 2012
In
"The Wild Duck Inn"
Thursday 27th December 2012
Junior Session begins at 8pm
Supper served at 10pm
http://ww
...
more
Sessions:
Dates for the Diary
22 November 2012
A few dates to be noted in your diary:
Wednesday evening Junior Session in the Wild Duck is OFF
Thursday 6th Dec 2012: Junior CCE Concert in The Fold 7pm-8pm
...
more
General:
Glens of Antrim CCE DVD Launch
21 November 2012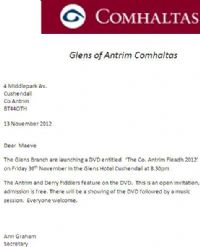 The Glens Branch are launching a DVD entitled 'The Co. Antrim Fleadh 2012' on Friday 30th November in the Glens Hotel Cushendall at 8.30pm ...
more
General:
Portglenone CCE AGM 2012
24 October 2012
Portglenone CCE AGM will take place in The Wild Duck Inn on Wed 7th November 2012
All members to attend and new members are very welcome!!!
Starts at 8.15pm after the junior session!
...
more
Fundraising:
Trad for Trocaire Session and Fundraising 2012
15 October 2012
Just to let you all know how the young musicians have done with their fundraising exploits for Trad for Trocaire.
In Costcutters on 13th Oct they busked for 2 hours and raised a
...
more