News
Classes:
A Few Dates for the Diary
03 March 2014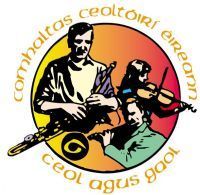 A few dates for the diary:
10th March: Classes as normal.
17th March: No Classes due to St. Patrick's Day.
24th March: Classes as normal. Committee Meeting 7.15pm in St. Mary's
...
more
Fleadhs:
Co Antrim Fleadh 2014 - PORTGLENONE
19 February 2014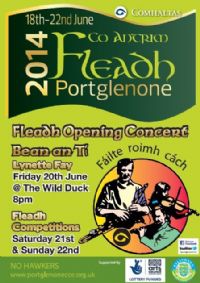 The
2014 Co. Antrim Fleadh
will be
hosted by the Portglenone CCE
Branch from
18th - 22nd June
. This year marks the 63rd Anniversary of Comhaltas in Ireland and to mark
...
more
General:
The Passing of Portglenone CCE Branch Founding Member, Brian Quinn.
11 February 2014
It is with great sadness that we learn of the death of our founding Comhaltas Branch member, Brian Quinn, who passed away peacefully in hospital on Tuesday 11th February after battling a long illnes
...
more
Concerts:
Caroline Fegan Memorial Concert
10 February 2014
A celebration Concert in memory of Caroline Fegan ...
more
Sessions:
Christmas and New Year Session 2013
17 December 2013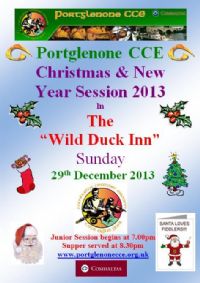 Portglenone CCE
Christmas & New Year Session 2013
In
"The Wild Duck Inn"
Sunday 29th December 2013
Junior Session begins at 7pm
Supper se ...
more
Concerts:
The Fold Annual Concert
17 December 2013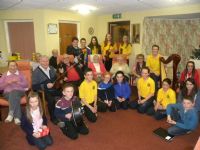 Well done to all our young musicians who entertained the residents of The Fold in Portglenone just before Christmas. The Concert was greatly appreciated and really enjoyed by the residents on the ru
...
more
Classes:
Christmas Class 2013
17 December 2013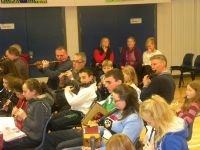 On Monday 9th Dec, Portglenone CCE Classes came to an end for the year 2013. All musicians assembled in the Hall of St. Mary's Primary School and joined together in a session format.
Many thanks fo
...
more
Concerts:
Damien O'Kane & Lumiere Concert
15 October 2013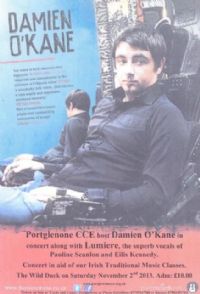 Portglenone CCE host Damien O'Kane in concert along with Lumiere, the superb vocals of Pauline Scanlon and Eilis Kennedy.
Concert in aid of our Irish Traditional Music Classes.
...
more
Fundraising:
Trad For Trocaire 2013
08 October 2013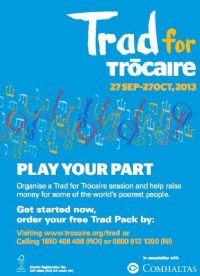 ...
more

Céilí Mór
Saturday 19th October 2013
St Joseph's Parish Centre
Greystone Road,
Antrim Town
9.30 - 12.30am
Proceeds in Aid of the new Gaelscoil Unit
@ Tann
...
more