News
Fleadhs:
Mini-Fleadh 2019
25 March 2019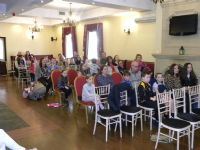 Well done and congratulations to all our young musicians and singers who participated in our 'Mini' Fleadh held in the Wild Duck Inn on Sat 23rd March. It was fantastic to see and hear so many young ta ...
more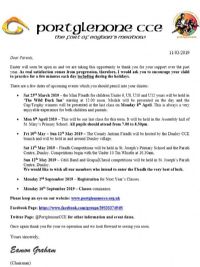 Easter will soon be upon us and we are taking this opportunity to thank you for your support over the past year. As real satisfaction comes from progression, therefore, I would ask you to encourage
...
more
Fundraising:
Tannaghmore PS
26 February 2019
...
more
Fleadhs:
County Antrim Fleadh Entry Form 2019
25 February 2019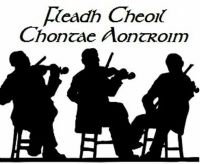 The Co. Antrim Fleadh 2019 Entry Form for the Antrim Fleadh in Dunloy is now available to download here.
All Co Antrim Fleadh Entry Forms are to be submitted to your Branch Secretary or to Martin
...
more
Sessions:
Christmas & New Year Session 2019
04 January 2019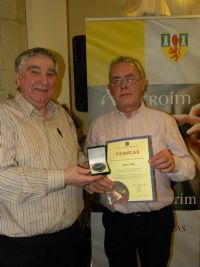 Portglenone CCE Branch held another highly successful Christmas & New Year Session in The Wild Duck Inn on Friday 4th January 2019. A large crowd was packed into the Mallard Suite at The Wild Du
...
more
Classes:
Christmas & New Year Session and Classes Recommence on Jan 7th
01 January 2019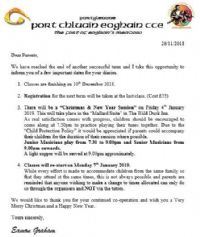 We have reached the end of another successful term and I take this opportunity to inform you of a few important dates for your diaries.
1. There will be a "Christmas &
...
more
Classes:
Christmas Class 2018
10 December 2018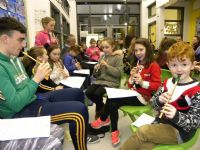 On Monday 10th Dec, Portglenone CCE Classes came to an end for the year 2018. All musicians assembled in the open area of St. Mary's Primary School and joined together in a session.
...
more
General:
Mid and East Antrim Tourism Event
01 December 2018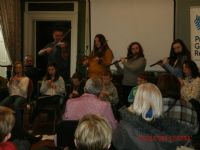 We would like to thank or Junior and Senior Portglenone CCE members and guest musician, Brian McCart, who recently played at the Mid and East Antrim Council Tourism event held in The Guest Hou
...
more
Sessions:
County Antrim Youth Session
28 October 2018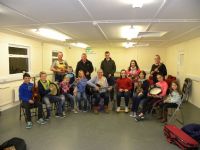 There was a great wee turnout this evening for the County Antrim Junior Session hosted by the County Antrim CCE Youth Officer, Cillian Darragh, and Portglenone CCE which was held in The Men's Shed, ...
more
Sessions:
Portglenone CCE host County Antrim Junior Session
16 October 2018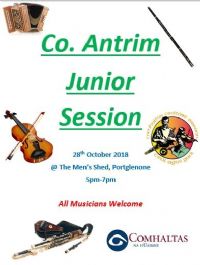 The County Antrim Junior session will be held in The Men's Shed in Portglenone from 5pm- 7pm on Sunday 28th October 2018. We would encourage any young musicians from all branches to attend as it
...
more