Welcome - Portglenone CCE Official Website
Fáilte chuig láithreán gréasáin oifigiúil na Portglenone CCE. Is é príomhchuspóir an suíomh seo a chur ar fáil don phobal le faisnéis a bhaineann le gníomhaíochtaí an bhrainse. Tá súil againn go bhfaighidh tú an suíomh seo úsáideach agus taitneamhach, agus go mbeidh tú ag glaoch ar ais arís go luath .... Riarthóir.
Welcome to the official website of Portglenone CCE. The main purpose of this site is to provide the public with information relating to the activities of the branch. We hope that you find the site useful and enjoyable, and that you will call back again soon....
Administrator.
Latest News
Workshops:
Informed Minds
29 September 2020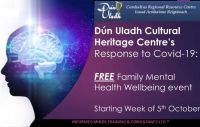 🌟🗣 A Comhaltas Ceoltóirí Éireann response to Covid-19 with Informed Minds 🗣🌟
more
Fleadhs:
Co Antrim Fleadh 2020 Cancelled due to Covid-19
01 April 2020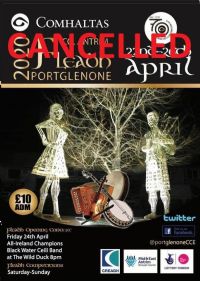 Co Antrim Fleadh CANCELLED 2020 ...
more
General:
Coronavirus Crisis
19 March 2020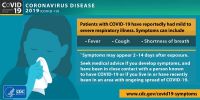 Due to the measures announced by Comhaltas HQ this week regarding the coronavirus crisis, the following will occur:
We have cancelled our Monday night Classes for the remainder of the term.
...
more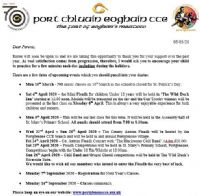 Easter will soon be upon us and we are taking this opportunity to thank you for your support over the past year. As real satisfaction comes from progression, therefore, I would ask you to encoura
...
more
Fleadhs:
Co Antrim Fleadh 2020 Entry Form
02 February 2020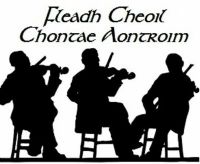 Entry form for Antrim Fleadh attached.
Closing date for entries is Saturday 14th March 2020
...
more