Welcome - Portglenone CCE Official Website
Fáilte chuig láithreán gréasáin oifigiúil na Portglenone CCE. Is é príomhchuspóir an suíomh seo a chur ar fáil don phobal le faisnéis a bhaineann le gníomhaíochtaí an bhrainse. Tá súil againn go bhfaighidh tú an suíomh seo úsáideach agus taitneamhach, agus go mbeidh tú ag glaoch ar ais arís go luath ....
Riarthóir.
Welcome to the official website of Portglenone CCE. The main purpose of this site is to provide the public with information relating to the activities of the branch. We hope that you find the site useful and enjoyable, and that you will call back again soon....
Administrator.
Click here
to view the Co Antrim Fleadh 2014 Promotional Video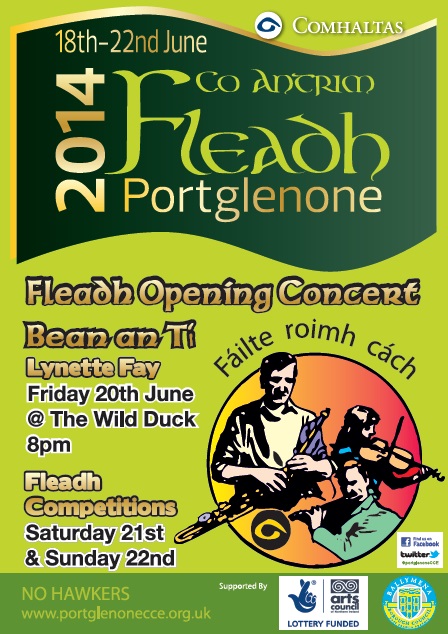 Latest News
Fleadhs:
Map of Portglenone - Caravans and Camping
10 June 2014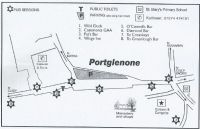 Map of Portglenone showing the pubs and venues for sessions and also areas for Caravans and Camping ...
more
Fleadhs:
Co Antrim Fleadh 2014 Launch Night
06 June 2014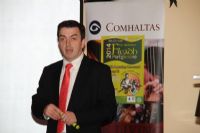 Portglenone CCE Officially launched the 2014 County Antrim Fleadh in The Wild Duck Inn. Special guests included Brendan McAleer (Dun Uladh), Maria McAllister (Arts Council Northern ...
more
Sessions:
Wednesday Sessions in The Sun - Preparation for Co Antrim Fleadh 2014
25 May 2014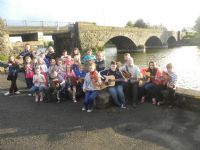 The Junior Portglenone CCE Sessions every Wednesday from 7pm to 8pm. Here the musicians are rehearsing for the upcoming Co. Antrim Fleadh Opening Concert at The Wild Duck Inn with Bean a Tí, Lynette
...
more
Fleadhs:
Fleadh 2014 Promotional Video Shoot
06 May 2014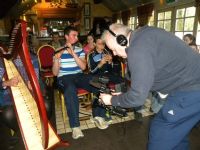 Many thanks to all who were involved in the shooting of the Fleadh 2014 promotional video last Wednesday 30th April. To all the dancers, pipers, musicians, Rosegift Clydesdales Horse and Cart owners an ...
more
General:
Bluebell Festival 2014
01 May 2014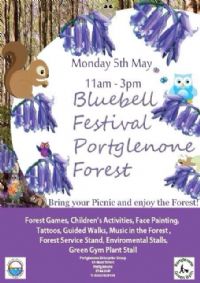 Date: 5th May 2014
11.00am to 4.00pm

Come along to Portglenone Forest on 5th May for a great fun day out.
Guided walks: Green Gym P
...
more