Welcome - Portglenone CCE Official Website
Fáilte chuig láithreán gréasáin oifigiúil na Portglenone CCE. Is é príomhchuspóir an suíomh seo a chur ar fáil don phobal le faisnéis a bhaineann le gníomhaíochtaí an bhrainse. Tá súil againn go bhfaighidh tú an suíomh seo úsáideach agus taitneamhach, agus go mbeidh tú ag glaoch ar ais arís go luath ....
Riarthóir.
Welcome to the official website of Portglenone CCE. The main purpose of this site is to provide the public with information relating to the activities of the branch. We hope that you find the site useful and enjoyable, and that you will call back again soon....
Administrator.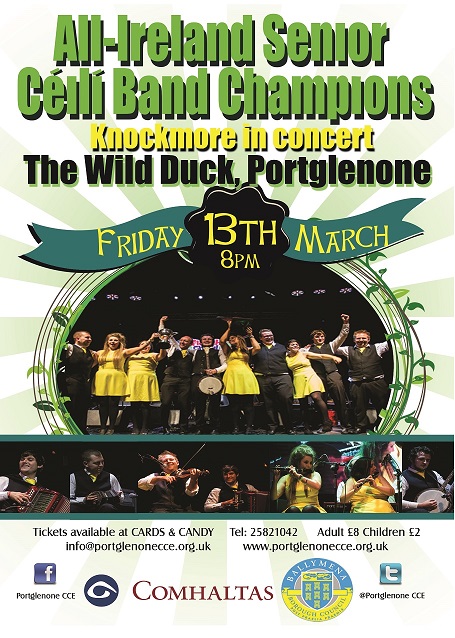 2014 All Ireland Céilí Band Champions, Knockmore Céilí Band, will be in Concert in The Riverside Suite @ The Wild Duck Inn on Friday 13th March 2014 commencing at 8.00pm. The musicians are staying in Portglenone after the concert so a session will no doubt follow!! Please feel free to join in.
Workshops will be on Saturday morning from 10.00am to 12.00pm
(venues to be confirmed)
.
There will be a Singing Session in 'The Men's Shed' on Main Street on Saturday evening commencing at 9.00pm. Hup!!
Latest News
Fleadhs:
Map of Portglenone - Caravans and Camping
16 February 2015
Map of Portglenone showing the pubs and venues for sessions and also areas for Caravans and Camping with contact details for Kathleen to book caravan spaces at the Marina. ...
more
Workshops:
Knockmore Céilí Band Workshops
09 February 2015
Workshop Registration Forms available now.
Download the form, fill it in and return either by email:
info@portglenonecce.org.uk
or post to:
Kieran Convery
15 Lisnagarron Lane
Portgleno
...
more
Concerts:
Knockmore Ceili Band - All Ireland Champions - In Concert
15 January 2015
2014 All Ireland Ceili Band Champions, Knockmore Ceili Band, will be in Concert in The Riversude Suite @ The Wild Duck Inn on Friday 13th March 2014
More info to come soon so keep this date free!!
...
more
Classes:
Christmas Class 2014
15 December 2014
On Monday 15th Dec, Portglenone CCE Classes came to an end for the year 2014. All musicians assembled in the Hall of St. Mary's Primary School and joined together in a session.
Many thanks for all
...
more
Festivals:
Ballymena Festival Traditional Day
14 December 2014
Hi everyone-hope you are all well. Can't believe its that time of the year again. Just dropping you all a little reminder about Ballymena Festival Traditional Day. If you go to Ballymena
...
more