Welcome - Portglenone CCE Official Website
Fáilte chuig láithreán gréasáin oifigiúil na Portglenone CCE. Is é príomhchuspóir an suíomh seo a chur ar fáil don phobal le faisnéis a bhaineann le gníomhaíochtaí an bhrainse. Tá súil againn go bhfaighidh tú an suíomh seo úsáideach agus taitneamhach, agus go mbeidh tú ag glaoch ar ais arís go luath .... Riarthóir.
Welcome to the official website of Portglenone CCE. The main purpose of this site is to provide the public with information relating to the activities of the branch. We hope that you find the site useful and enjoyable, and that you will call back again soon....
Administrator.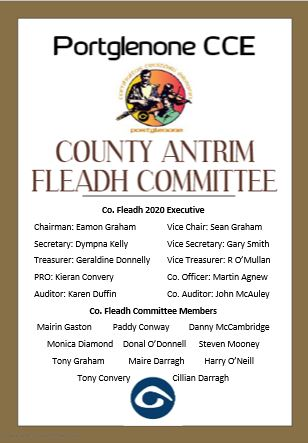 Latest News
Fleadhs:
Co Antrim Fleadh 2020 Meeting
05 January 2020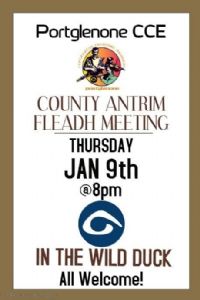 Co. Antrim Fleadh 2020 Meeting in The Wild Duck Inn @ 8.00pm on 9th Jan 2020 ...
more
Sessions:
Christmas & New Year Session 2020
03 January 2020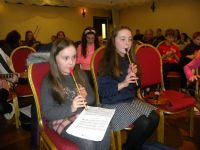 Portglenone CCE Branch held a very successful Christmas & New Year Session in The Wild Duck Inn on Friday 3rd January 2020. A large crowd was packed into 'The Mallard Suite' from early on as the
...
more
Sessions:
County Antrim Youth Christmas Session 2019
12 December 2019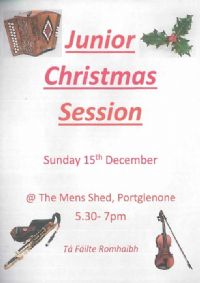 The County Antrim Youth Session being hosted by the County Antrim CCE Youth Officer, Cillian Darragh, will be held in the Men's Shed, Main Street, (Beside The Village Inn) Portglenone, on Sunday 15th
...
more
Concerts:
Gortgole Fold Christmas Concert 2019
11 December 2019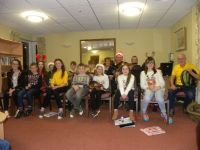 Well done to all our young musicians and singers who entertained the residents of The Gortgole Fold in Portglenone just before Christmas. The Christmas Concert was greatly appreciated and was really
...
more
Classes:
Christmas Class 2019
09 December 2019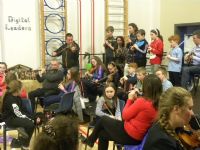 On Monday 9th Dec, Portglenone CCE Classes came to an end for the year 2019. All musicians assembled in the open area of St. Mary's Primary School and joined together in a session.
M
...
more