News
Classes:
Christmas & New Year Session and Classes Recommence on Jan 7th
01 January 2019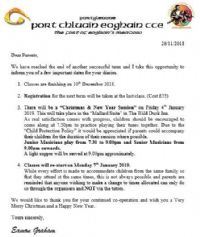 We have reached the end of another successful term and I take this opportunity to inform you of a few important dates for your diaries.
1. There will be a "Christmas &
...
more
Classes:
Christmas Class 2018
10 December 2018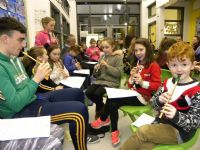 On Monday 10th Dec, Portglenone CCE Classes came to an end for the year 2018. All musicians assembled in the open area of St. Mary's Primary School and joined together in a session.
...
more
General:
Mid and East Antrim Tourism Event
01 December 2018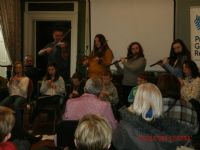 We would like to thank or Junior and Senior Portglenone CCE members and guest musician, Brian McCart, who recently played at the Mid and East Antrim Council Tourism event held in The Guest Hou
...
more
Sessions:
County Antrim Youth Session
28 October 2018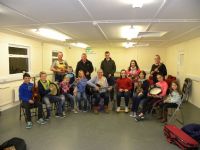 There was a great wee turnout this evening for the County Antrim Junior Session hosted by the County Antrim CCE Youth Officer, Cillian Darragh, and Portglenone CCE which was held in The Men's Shed, ...
more
Sessions:
Portglenone CCE host County Antrim Junior Session
16 October 2018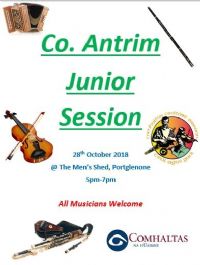 The County Antrim Junior session will be held in The Men's Shed in Portglenone from 5pm- 7pm on Sunday 28th October 2018. We would encourage any young musicians from all branches to attend as it
...
more
Classes:
Portglenone CCE Registration and Classes for 2018-2019
15 August 2018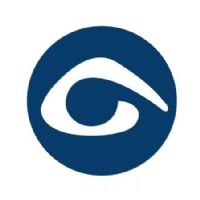 Can we please bring to your attention the following important information about our Comhaltas Registration for Classes:

Portglenone CCE Registration and Classes for the i
...
more
Sessions:
Feis Na nGleann Sessions and Lessons
07 July 2018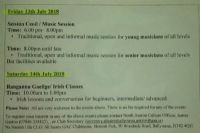 CLG, Aontroim Thuaigh / N. Antrim GAA is hosting 2 events with the Naomh Uile CLG / All Saints GAC over the Feis na nGleann weekend 13th - 15th July 2018.
Spread the word!
Other
...
more
Fleadhs:
The Gathering - Antrim Fleadh 2018
12 April 2018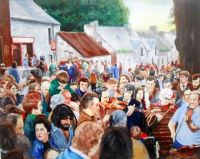 The Gathering 2018 - Would be great to be part of this at The Antrim Fleadh in Rasharkin 29th April 2018
This painting by Conor Larkin is from an old photo taken at the County A
...
more
Workshops:
Glens of Antrim CCE Workshops
11 April 2018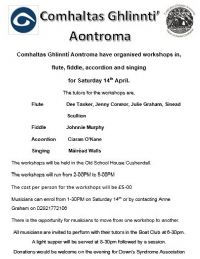 Comhaltas Ghlinntí Aontroma have organised workshops in Cushendall in the following instruments, flute, fiddle, accordion and singing for Saturday 14th April.
It would be great benefit to our pup
...
more
Classes:
Final Class of the 2017-2018 Year
26 March 2018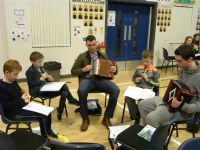 The final CCE class of the year took place on Monday 26th March. As usual a great number of pupils were in attendance to finish the year with a session.
...
more