News
Festivals:
Ballymena Centenary Festival 2016 Syllabus launch
20 October 2015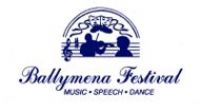 Ballymena Festival organisers are delighted to announce the launch of their 2016 Centenary Festival syllabus. To celebrate the centenary of the Festival they have commissioned copies of the ori
...
more
Fundraising:
Trad for Trocaire Oct 2015
14 October 2015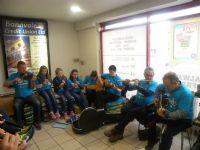 Just to let you all know how the young musicians have done with their fundraising exploits for Trad for Trocaire.
In O'Neill's Nisa on 3rd Oct they busked for 2 hours and raised a fantastic
...
more
Fundraising:
Trad for Trocaire 2015
24 September 2015
Trocaire have teamed up with Comhaltas Ceoltóirí Eireann to run
Trad for Trócaire
, a national fundraising initiative which was launched for the first time in September 2010.
...
more
Concerts:
Macalla na hEireann - Comhaltas Tour of Ireland - Echoes of 1916
17 September 2015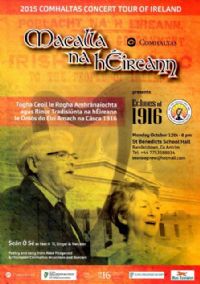 Loughbeg Branch are hosting the Comhaltas Tour this year in St Benedicts School Hall in Randalstown on Monday 12th October 2015 at 8pm. Doors open 7:30pm and Tickets are £10.
...
more
Classes:
Dunloy Irish Classes
09 September 2015
Dunloy Irish class 2015-2016 – Parish Centre, Bridge Rd., Dunloy
First term starts Thursday 10th September 2015 (at 7pm for registration)
7.30pm – 9.00pm each Thursday evening
...
more
Concerts:
Dún Uladh Concert with Knockmore and Others
18 August 2015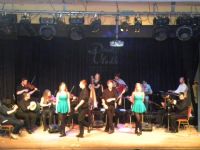 What a Night!! Many Thanks to Maggie Maguire, Brendan McAleer and all at Dún Uladh for inviting the Portglenone CCE Junior Trad Group to their final Seisún Summer Show 2015 compered by the magnificent ...
more
Classes:
Portglenone CCE Registration and Classes 2015-2016
11 August 2015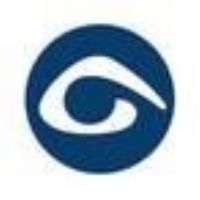 Portglenone CCE Registration for the incoming 2015-2016 Term:
NOTE: Registration for the new term is on Monday 7th September 2015 at
7.00pm in 'The Wild Duck' this year and NOT 'The Loft'
...
more
General:
Defibrillator for Carla
01 August 2015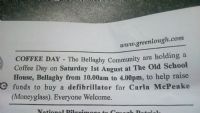 Coffee Day 10.00am to 4.00pm on Sat 1st August at The Old School House, Bellaghy, to help raise funds to buy a defibrillator for Carla McPeake. ...
more
Sessions:
Summer Seisiun 2015
26 June 2015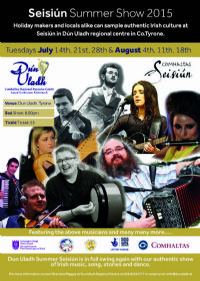 Holiday makers and locals alike can sample authentic Irish culture at Sesiún in Dun Uladh regional centre in Co.Tyrone.Seisiún 2015 ar fud na tíre le Comhaltas Ceoltóirí Éireann- ag saothrú a
...
more
Fleadhs:
Some Upcoming Fleadh Events
20 May 2015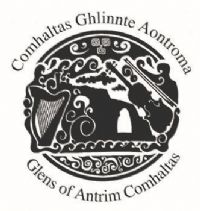 Last Junior Session in The Wild Duck this evening (Wednesday 20/5/15) from 7 pm - 8 pm.
Fleadh Open Air Concert and BBQ on Friday Night (22/5/15).....be at The Boat Club for 7pm.
Fleadh Comp
...
more