John O'Connell
Mr. John O'Connell, also of Main Street, Portglenone, winner of the 1990 Senior Mouth Whistling Competition which was held in Sligo. John finally won his much coveted All-Ireland title after many years of coming close to his dream.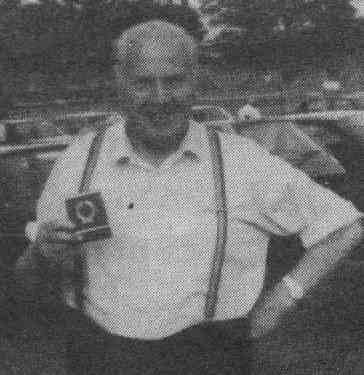 Unfortunately, John passed away in May of 1993 but not before passing on his talent to his pupils who have since went on to win All-Ireland titles themselves.
Big John The Whistler

By Pat Brosnan (Air : "The Rising of the Moon")

There are people of great talent here within our Emerald Isle,
Musicians, singers, dancers too of elegance and style,
But when it comes to whistling one performer stands alone,
And his name is John O'Connell, the big man from Portglenone.

All over towns and villages across the fair north land,
His whistling has resounded with a rhythm pure and grand,
With reel and jig and hornpipe, his fame is widely known,
For he's Ulster's greatest whistler, big John from Portglenone.

'Tis many years he's whistled now, at session and Fleadh Cheoil,
From Belfast to Killarney and from Sligo to Listowel,
In many other places too both near and far from home,
The lively airs are much admired of big John from Portglenone.

In the year of nineteen ninety he won in Antrim too,
With a fine display of whistling, sure his equals they are few,
At the Ulster Fleadh in Warrenpoint his genius it was shown,
When he was declared the champion there, big John from Portglenone.

It was in the month of August to Sligo he came down,
To the great Fleadh Cheoil na h-Eireann that was held in that fine town,
His whistling it was judged the best for quality and tone,
And he won his first All-Ireland there, big John from Portglenone.

Then here's to this great whistler who has really stood the test,
And to his friends in Antrim too we wish them all the best,
When next he visits Limerick West we'll treat him like our own,
With a welcome that is fitting for big John from Portglenone.