Portglenone Fleadh 2000
The County Antrim Fleadh which took place on the weekend of 19th - 21st May in Portglenone turned out to be a great success. The weather failed to dampen the traditional spirits of the musicians and their supporters and music filled the air throughout the weekend.
County Antrim Chairman, Mr Eamonn Graham, made a short speech thanking all the Sponsors who made the event possible through their kind donations and support. Eamonn also thanked all the parents for encouraging their children to learn and develop their musical skills. Shortly afterwards, a group of local musicians who at some point tutored at the Portglenone CCE classes, took to the stage and officially opened the Fleadh in the town centre with a fine repertoire of folk and traditional tunes and songs.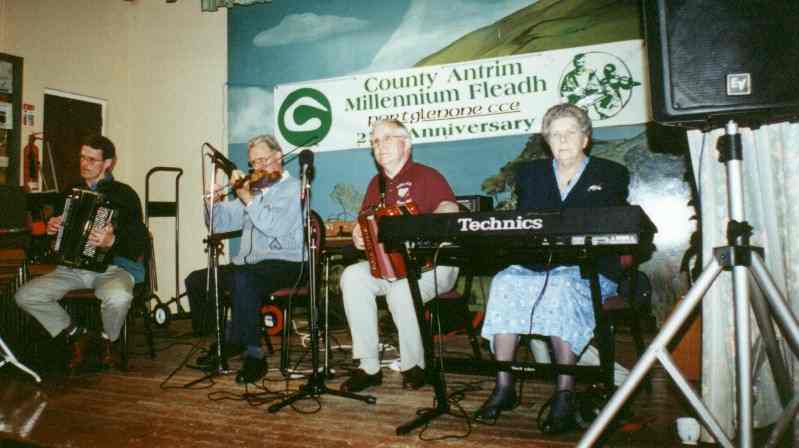 After the official opening, attention was drawn to the Ceili which was held in the local Casements GAA Hall and was attended by a large number of patrons from all parts of the province. After a few fine dances, a grand tea was served much to the delight of a number of dancers who were getting it tight. With this aside, they all danced away until the wee small hours.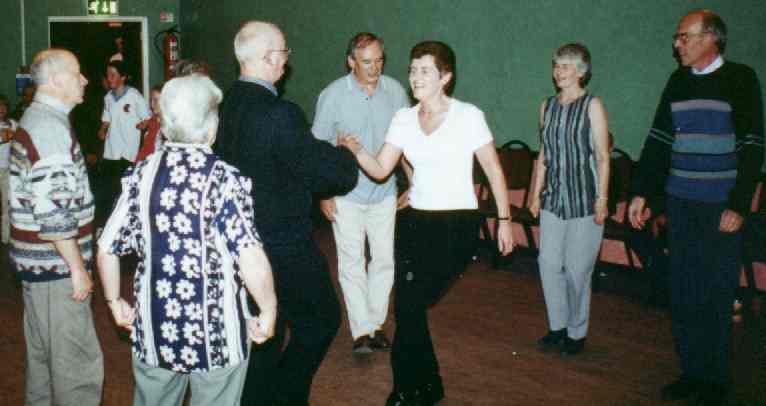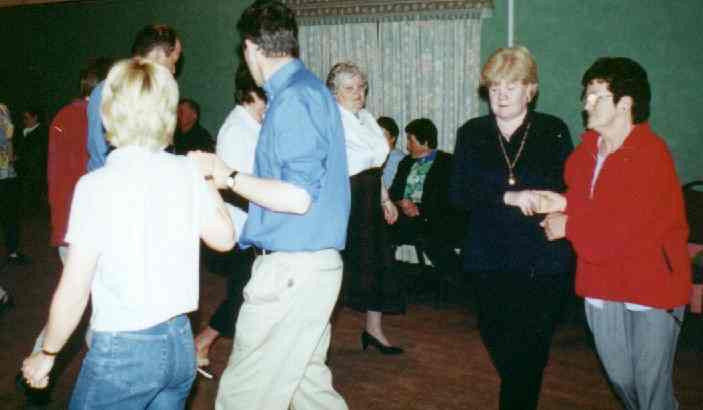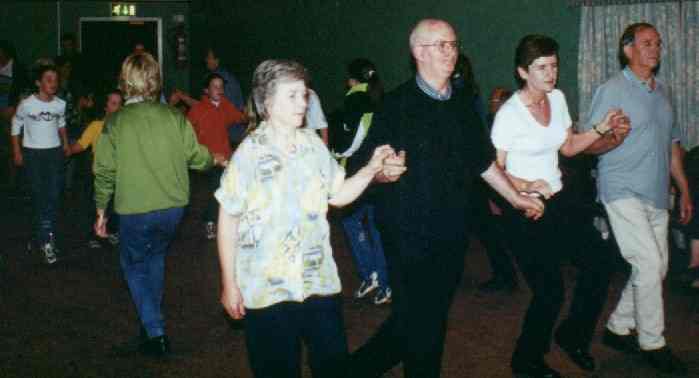 Saturday saw the competitions take place from 10am to 6pm in St. Mary's Primary School with many competitors from all over the county participating. From Belfast to Cushendall and Glenavy to Ballycastle and of course the local Portglenone and Crosskeys musicians. There were various street sessions throughout the day and music was also provided on the platform in the town centre from midday onwards. Groups from as far as Letterkenny, Ballycastle and many others entertained the crowds with fine music and song.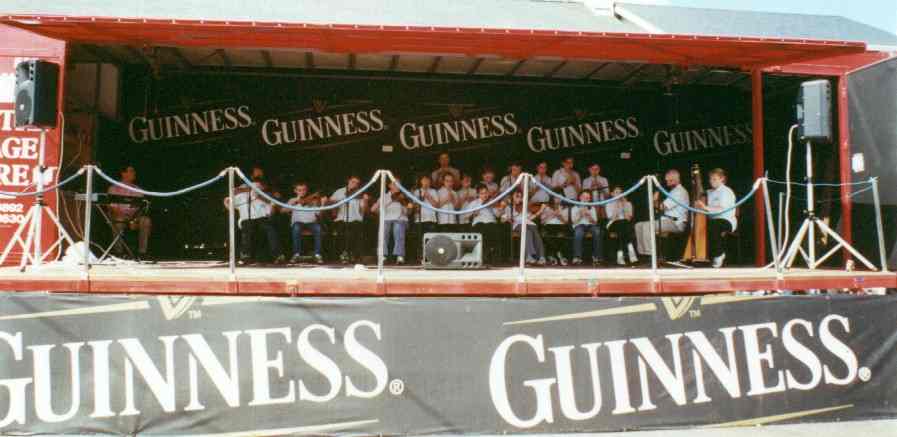 Sunday brought a large crowd out to watch the Street Ceili. Music was supplied by local musicians on the platform. Street sessions continued until late in the evening and then transferred to many of the local pubs.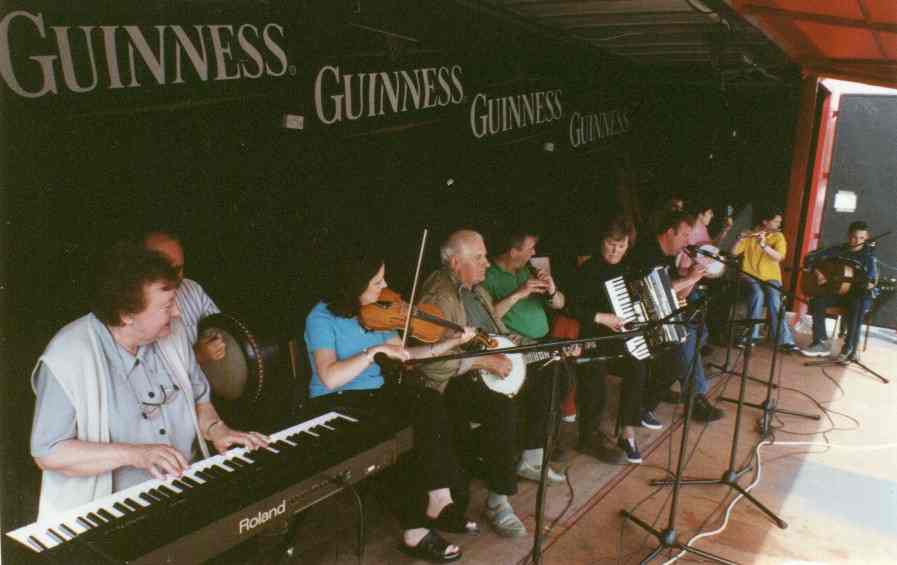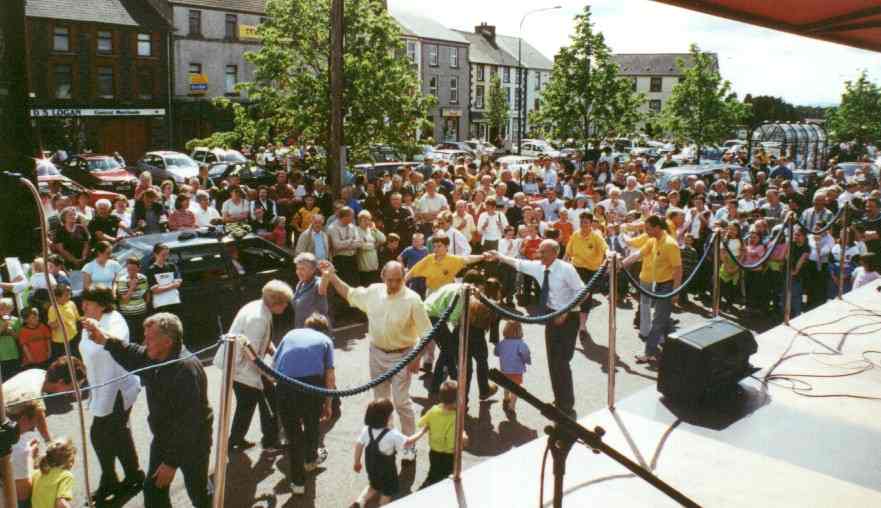 Pictures showing the Waves Of Tory in full swing and the large crowds in the background enjoying the craic.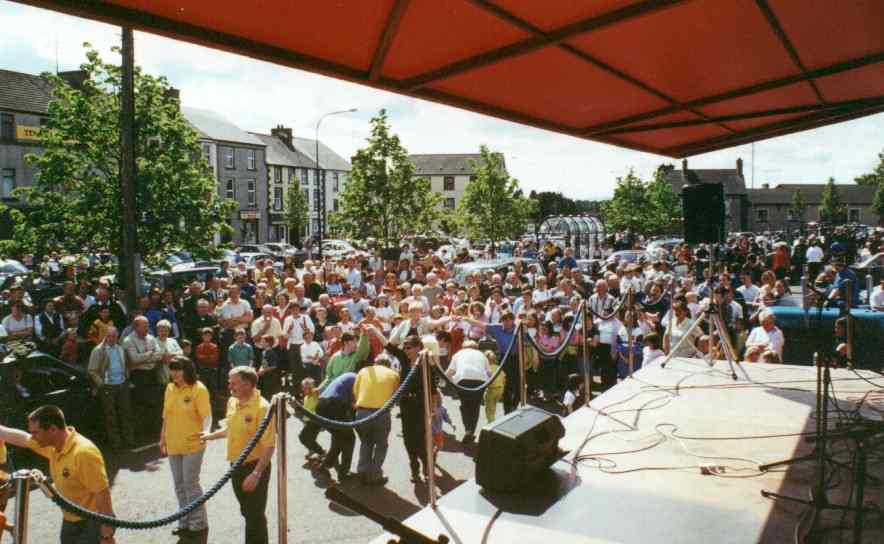 The bustling village is building up a Fleadh tradition of it's own. This was the the eighth occasion on which it has played host to the event. And Portglenone provides an ideal venue, with a wealth of hostelries offering all that the many visitors require, from food to good cheer and most importantly, good music.

So until the next Fleadh, we can all take home fond memories of the Co. Antrim Millennium Fleadh in Portglenone.